A cyclic and playful meditation,
Vivarium
is a poetic allegiance to the unsung life persisting everywhere. You are invited to visit a site where four artists give their attention to detail, bending to weeds, bricks, and bugs. Two dancers oscillate limbs and torsos like Coleoptera or heliotropic plants—they jostle, camouflage, and compost. A musician plays field recordings, weaving a soundscape. A scenographer creates a pop-up garden from found-objects. In the lee of linear time,
Vivarium
both colonises and pollinates, engenders and contaminates pre-existing ecologies.
Paige Culley ©Maria Munera
Lucy M. May ©Nans Bortuzzo
brief history of the creation
---
Dance artist
Lucy M. May
invited collaborators
Noémie Avidar
,
Patrick Conan
and
Paige Culley
to join in an occupation of a backyard. The proposal was to feed their common interests in exploring atypical outdoor environments using the immediate landscape as a source of creativity. Fuelled by their mutual inclination towards spontaneity, unpredictability, and porousness,
Vivarium
was born.
The project was refined on back porches, in parks, and on railway tracks, where its identity and intentions took shape. Through free-association and experimentation, the collective began to focus on iterations of occupation and colonization. They commit themselves to neglected or invisible public spaces, investing them with minimal and discrete interventions. Their mandate is to question their belongingness in these natural and urban spaces, to question the public or private ownership of these areas, and to actively sense, observe, and articulate what they find there. The chosen or imposed sites become lands of strange games, oneiric and inclusive of everyone (and everything) deciding to engage in the dialogue.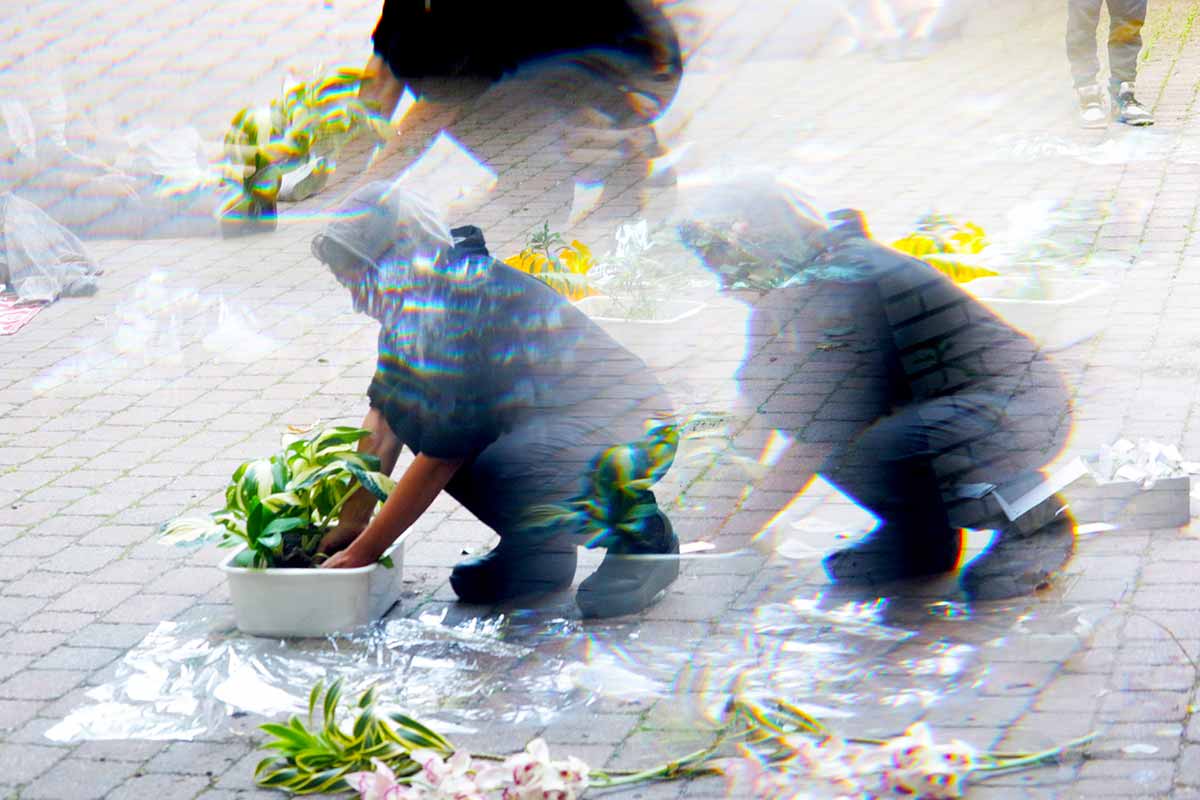 Noémie Avidar; Patrick Conan ©ZuZu Knew

quotes
---
"Refined [and] sensitive work"
---
"Palpable… Intriguing. The artists create an atmosphere, a world that comes to life"
2018
---
Rewilding,
Tangente
, The Wilder, Montréal, Mar 29—Apr 1
---
Open Studio Series Special Event,
Kinetic Studio
, Halifax, Jan 22
---
Impact Fest,
Atlantic Ballet Canada
, The Peace Centre, Moncton, Jan 19
2017
---
Le Party Jouer Dehors, Parcours danse, The Wilder, Montréal, Nov 28
---
Suoni per il Popolo
, École Nationale de théâtre, Montréal, Jun 14
2014
---
Home Theatre Festival, Les Salons de l'est, Hochelaga, Montréal, May 25
credits
---
co-creators, performers
Noémie Avidar
(scenography, installation),
Patrick Conan
(composition, sonic environment),
Paige Culley
(movement, costumes),
Lucy M. May
(movement, costumes)
---
photographers, videographers
Zuzu Knew
,
Dorian Nuskind-Oder
,
Nans Bortuzzo
,
Emily Gan
,
Erin Fortier
,
María A. Múnera
,
Kevin M. Photographer
,
Alejandro de Leon
---
outside eyes
Sasha Kleinplatz
,
Peter James
---
residencies, support in-kind
Jouer dehors / La danse sur les routes du Québec
,
Bête Sauvage
,
Monument National / La SERRE- arts vivants
,
Montréal, arts interculturels (MAI)
,
École nationale de théâtre du Canada
,
Tangente Danse
,
Atlantic Ballet Atlantique Canada
---
financial donors
Caisse Desjardins de la culture
,
Luc Pelletier, Erin Fortier, Nathan Yaffe, Stephen Glasgow, Marie-Chantale Desrosiers, Stephen May, Julie Scriver, Charles & Zipper Scriver, Jean Conan, Nicola Poplawski, Thea Culley, Patrick Leonard, Nancy Bauer, Margaret Boyle, Erin Fortier, Sarah Hansen, Do-Ellen Hansen, Sharon May, Nathalie Senécal, Claire May, Lesandra Dodson, Linda Rabin, Troy Ogilvie, Julia Hansen, Toni Smith, David Rancourt, Lisa-Anne Ross, Alexander MacSween, Jalianne Li, Isabelle Poirier, Dorothea Saykaly, Alejandro de Leon, Andrew Turner, Susanna Hood, Marilène Bastien, Julie Caissie, Claudia Fancello, Louise Birdsell-Bauer, Lindsey Laidlaw, Marnie Pomeroy
---
produced by
Lucy M. May
in collaboration w/
Bête Sauvage
,
Noémie Avidar
,
Paige Culley
,
Patrick Conan
---
Vivarium
was created in Montréal, Québec. This island was settled and is still settled. It has many names. The
Kanien'kehá:ka Nation
call it Tiohtiá:ke. We would like to acknowledge the people who have tended to this place since time immemorial—the
Haudenosaunee Confederacy
,
Huron-Wendat
,
Waban-aki
, and
Anishinabeck
.
We would like to express our respect and gratitude to the traditional stewards of the stolen lands upon which these works were created: the
Anishinaabeg
,
Chippewa
,
Haudenosaunee
,
Kanien'kehá:ka
,
Mi'kmaq
,
Mississaugas of the Credit
,
Peskotomuhkati
,
Sámi
,
Wabanaki
, and
Wolastoqey
Nations and Confederacies. Creating dance and art relies on funding and resources, and all wealth comes from the earth.
Land back.