Hosted in the belly of the theatre, this Krump solo feeds a hunger for communion. The celebrated Krump artist
7Starr
performs in dialogue with light, silence, noise, and darkness, freestyling with his raw lexicon. He forges into dark places, carrying us across the gaps that seem to separate us. This groundbreaking work catalyzes Contemporary dance and Krump practices in a bid for emotional reciprocity.
On a mission to breach the singular self,
Anima / Darkroom
pitches towards a trans-personal catharsis with both vulnerability and brute force. The effort to listen and be heard, to bear witness and be seen, reverberate in an imperfect harmony. Do you see me?
7Starr ©Do Phan Hoi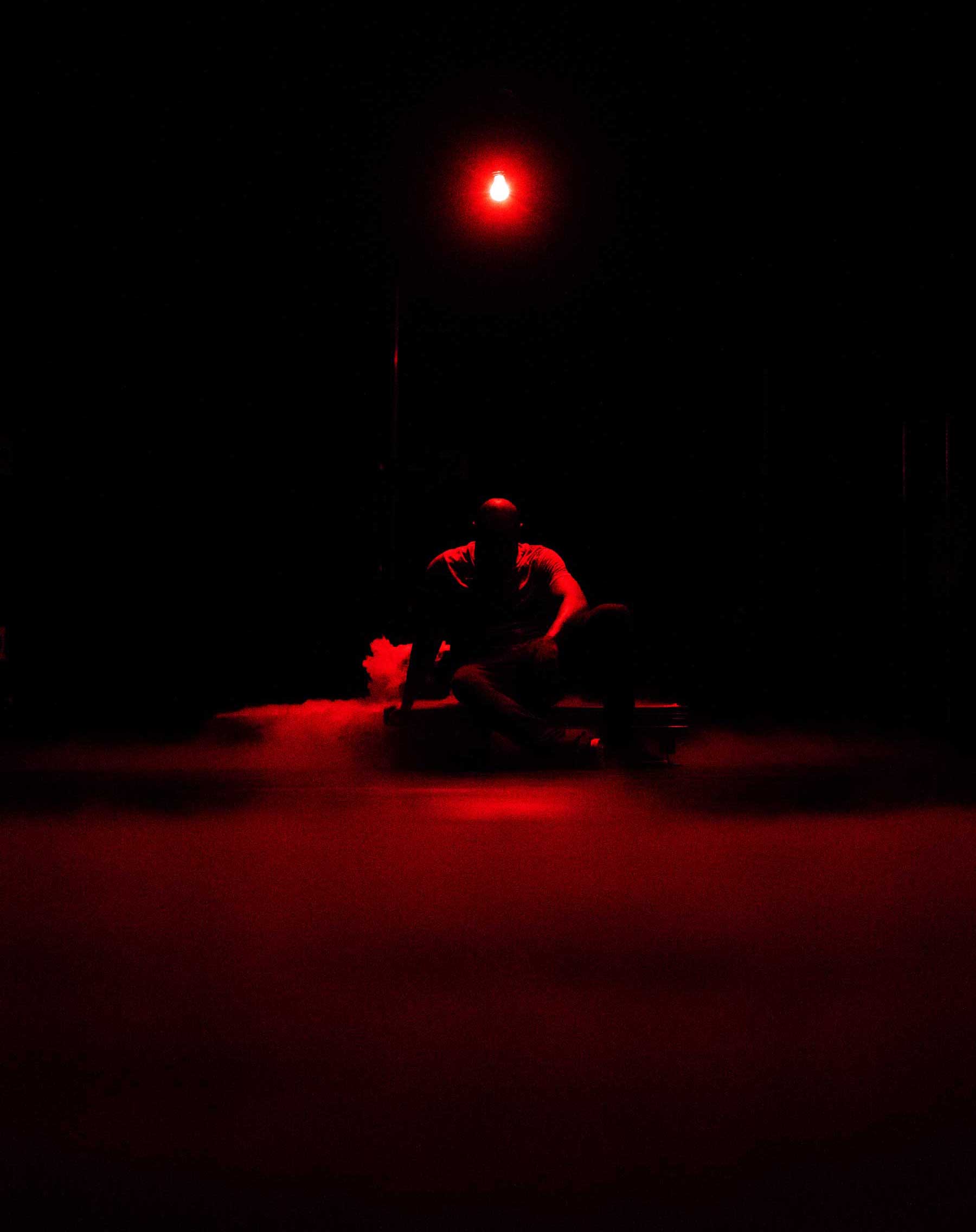 7Starr ©Elias Touil
Anima / Darkroom
is the result of a first collaboration between choreographer, Contemporary dancer and rookie Krumper
Lucy M. May
and
7Starr
, an internationally recognized dancer and leader in the Krump community, who has grown and advocated for Krump culture in Canada for the past fifteen years. To learn more about Krump:
mtlkrumpalliance.com
7Starr ©Do Phan Hoi
quotes
---
"A totally raw creation [...] Each staccato gesture on stage reveals the very essence of this dance which seems so violent, but which is, deep down, a cry from the heart to be heard."
Journal de Montréal
---
"The wager is audacious, even risky, but the combination of these seemingly opposite worlds makes this work an ode to the creation of bridges between different realities."
Alexie Legendre, JEU
---
"It' s as if his soul is visible in "this black box", in this coming and going between darkness and light that reveals and hides at the same time. [...] A danced moment of rare power."
Rose Carine Henriquez, VOIR
---
"7Starr is an extraordinary performer, shape-shifter of excellence, a master of his craft. Lucy M. May has created the perfect frame in which to gather our focus, to honour and illuminate this unique genius. [...] The audience tumbles into a world of raw honest strength and compassion. One finds oneself held by revealed truth and in awe of human experience. It is storytelling of authenticity and power. The work resonates and remains with me, and still has me marveling weeks later. [...] Seamless and radiant."
Margie Gillis, choreographer
2021
---
Maison des arts de Laval
, Théâtre des muses, Laval, Nov 25
---
CAM en Tournée, Montréal, Fall 2021
---
Ottawa, Fall 2021
---
Festival TransAmériques
, Théâtre Prospero, Montréal, May 26-Jun 4
---
Diffusion En Scène, Théâtre Gilles-Vigneault, Saint-Jérôme, March 3; cancelled, CoV-19
---
DLD, Caravane-Solos, L'Assomption, Feb. 5-7; 10-min excerpt, cancelled CoV-19
2020
---
Breakin' Convention
, Sadler's Wells, London, UK, May 2-3; cancelled CoV-19
---
Festival TransAmériques, Montreal, May 22-23-26-27; cancelled CoV-19
---
Kinetic Studio Symposium, Halifax, Jun 15-20; postponed CoV-19
---
DLD, Caravane-Solos
, Cap-à-l'Aigle, Aug 19-Sep 6; excerpt, 10 min x 50 shows
2019
---
Centre d'art Diane Dufresne, Repentigny, Apr 4; excerpt, 20 min
---
SPARK Series, Montreal, Jun 2; excerpt, 30 min
---
World Premiere
La Chapelle & Gutta Zone
, Montreal, Sep 26-27-30, Oct 1
2018
---
Fluid Fest
, Calgary, Nov 2-3; study for Anima / Darkroom, 38 min
---
New Dance Horizons, Regina, Nov 7; video excerpt, 7 min
---
ELAN Quebec, Théâtre Sainte-Catherine, Montreal, Nov 14; excerpt, 3 min
credits
---
producer, concept, direction
Lucy M. May
---
choreographers
Lucy M. May
,
7Starr
---
performer
7Starr
---
lighting design, technical direction
Jon Cleveland
---
sound design
Patrick Conan
---
original music
Patrick Conan
,
Big Rulez aka God'sHand (Marion Arinloye)
---
costume design
Pax
---
artistic advisors
Ellen Furey
,
Alexandra "Spicey" Landé
---
outside eye
Valérie "Taminator" Chartier
,
Nindy Banks
,
Etienne Lou
---
rehearsal assistant, stage support
Mathilde Mercier-Beloin
---
mentorship
Ola Maciejewska
---
voice coach
Etienne Lou
---
sound consultant
Guillaume Côté
---
voices
Goof
,
Ja James Britton Johnson
,
Shean Elie-Leconte
aka
Shany Boubou HeavySoul
,
Tommy "Sin'cere" Nuguid
---
communications assistance
Andréanne Samson
---
administrative assistance
Margarita Herrara-Dominguez
---
photography
Elias Touil
,
Do Phan Hoi
,
Tommy "Sin'cere" Nuguid
---
videography
Matt McKinney
,
JaKnows
,
Emily Gan
,
Matthew Maaskant
,
Kinga Michalska
,
Kimura Byol
---
video editing
Eduardo Menz
---
technical residencies:
La Chapelle Scènes Contemporaines
,
Centre de Création O Vertigo – CCOV
,
Maison des Arts de Laval
,
La Maison de la culture Marie-Uguay
(Accès culture network)
---
residencies :
Studio 303
,
le Centre d'art Diane Dufresne
/
Diffusion Hector-Charland
,
The Third Floor Projects
/
Usine C, Danse à la Carte
,
Studio Illest Drive
---
financial partners :
Canada Council for the Arts
,
Conseil des arts et des lettres du Québec
---
Thank you
Big Mijo
and
Tight Eyex
, the creators of Krump.
---
Lucy dedicates this work to the memory of
Sammono Chau
.
We would like to express our respect and gratitude to the traditional stewards of the stolen lands upon which these works were created: the
Anishinaabeg
,
Chippewa
,
Haudenosaunee
,
Kanien'kehá:ka
,
Mi'kmaq
,
Mississaugas of the Credit
,
Peskotomuhkati
,
Sámi
,
Wabanaki
, and
Wolastoqey
Nations and Confederacies. Creating dance and art relies on funding and resources, and all wealth comes from the earth.
Land back.